You know that confident moment when you finally hit the pay now button on that online purchase you have been tracking for weeks? You have been watching the sale cycle, you know you have it at the lowest price and you feel so good with your purchase. It literally makes the sun seem a little brighter. That golden moment can only be countered by the sheer defeat you feel watching your beloved item fall to the absolute lowest price you have ever seen the next week.
If you are new here, you don't know me yet (thanks for visiting might I add). I am an absolute cheapskate. I pinch pennies like nobody's business, plan out ever purchase, and budget for every splurge. So, when I finally decide to hit that pay now button a lot of thought went into it and it's a big deal for me.
On the other hand, I am also really forgetful. I have to write everything down or it will be lost in my mind forever. I am just going to be real here, most of the time I never remember to go back and recheck the item I purchased after a few days.  On top of that, online retailers can be really unpredictable when it come to prices (especially Amazon!).
That's were Paribus comes in. Paribus is a new amazing service that you literally only need to remember to sign up for (FREE by the way) and then forget about. Perfect for me!

What is Paribus
Paribus is a service that automatically scans your inbox for receipt confirmations from supported stores such as Amazon, Target, Best Buy, Gap or Macy's ect.
How it Works
When Paribus sees a receipt confirmation from a purchase from a retailer, it immediately goes to work and monitors the price of the item you bought. It checks for price decreases as well as any coupons or promo codes. When a drop is detected, Paribus automatically writes the retailer and submits a refund request. As we all know, nothing in life is totally FREE, Paribus takes a 25 percent cut of the refund AFTER you get your cash back.
Whoa whoa, before you freak out, don't forget that this is FOUND money you would have otherwise never received. Also Paribus does not issue your refund so you don't have to worry about not getting back what you are owed. Refunds are issued from the retailer you purchased from usually in the same form of payment.
Oh and another plus, your first refund is free! AND through June 2016, refer your friends to download the Peribus app to reduce your fee to 0%! Each friend is worth a 5% reduction in commission. Refer five friends and Peribus won't make a cent from you through June 2016!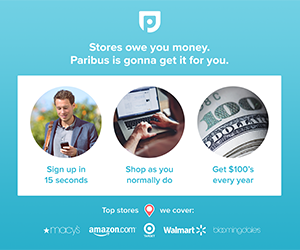 How to Get Started
All you need to do is head to Paribus, either on your phone (IOS only for now) or your computer, create an account, and link your email address.  Paribus only works with one email per account, but they encourage users who have multiple emails to sign up for multiple accounts that way you don't miss out on any refunds!
If you are still having doubts about this, try it out! It really speaks for itself! Most retailers allow for a one-time price adjustment, usually within 7-14 days of purchase. If the price drops after you buy, you are entitled to that difference and Paribus is going to get it for you. I got my first refund from Amazon in 3 days after signing up! It doesn't get much easier than that!
So, if you do a lot of online shopping or just like getting back money that was yours in the first place, I highly recommend you give this a try! Just sign up for it and completely forget about it until you get that email saying your refund is on its way! This is totally my favorite way to make sure I am getting the absolute best deal!