This shop has been compensated by Collective Bias, Inc. and its advertiser, Emergen-C®. All opinions are mine alone. #FallImmuneSupport #CollectiveBias
Fall is finally here in the north county, and I could not be more excited! This time of the year is just so magical for me. I really don't know what it is, but fall just gives me a special feeling. With the changing of the leaves and all the fun fall activities, it's my absolute favorite season.
But with all the joys of fall also comes that seemingly never ending to do list. You know the one I'm talking about. Between getting ready for three (YES, three!!) holidays, shopping, school events, yard clean up, and more, fall can easily be called the busiest time of the year.
If you're not careful, it can be really easy to get rundown. And, once you're down, it can be hard to swing back. You know what they say, "There ain't no rest for the wicked!"
This year, skip the fall drain and kick start your mornings with the Secret Weapon Strawberry Orange Banana Smoothie! What's even sweeter about this smoothie, you can pick up all the ingredients you need right in your local Walmart for a great price!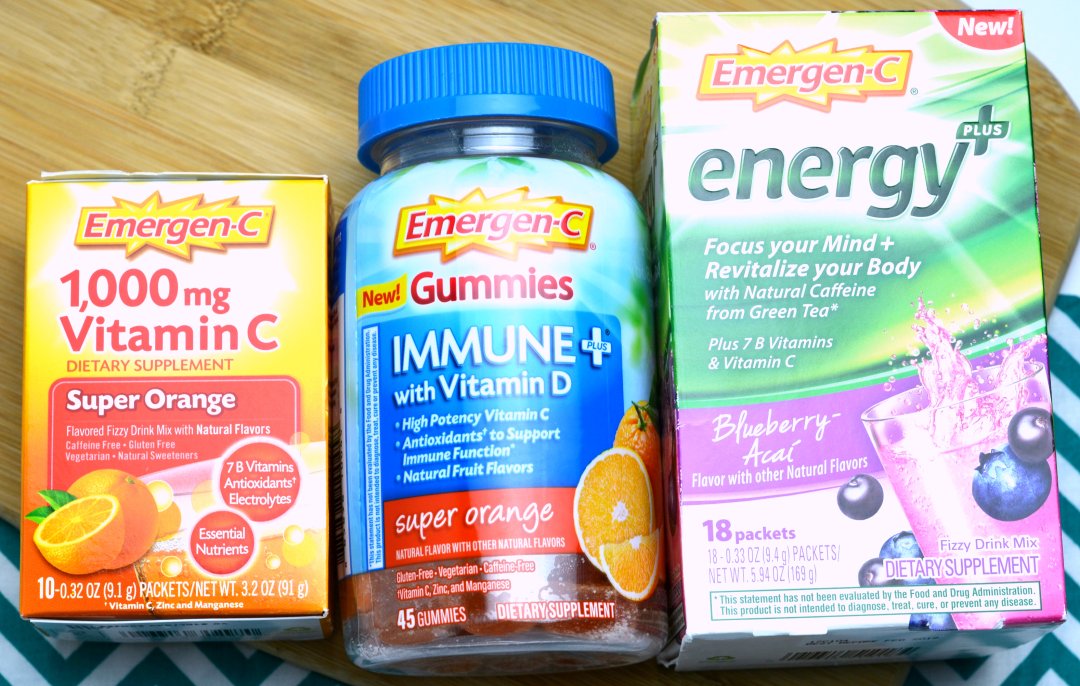 You can also hover over the image above to shop these products.
Trust me when I tell you this Strawberry Orange Banana Smoothie is like a kick start in a glass! It's the perfect combination between sweet, tart, and creamy, even though there is no cream, milk, or yogurt in it. Plus, thanks to the secret ingredient, Emergen-C® Super Orange, this thing is packed with Vitamin C plus other key antioxidants such as zinc and manganese to support your immune system along with B Vitamins to enhance energy naturally.* Emergen-C® dietary supplements are the delicious way to start your day.
Believe it or not, breakfast is one of the most commonly overlooked and best ways to give yourself that much needed daily boost. I know, I know. A lot of us skip breakfast because we just don't have time to sit down at the table and eat it in the morning. But with this smoothie, you can literally take your breakfast on the go! And with this receipe, you can use the basic fruits you have in the kitchen and add Astragalus Pure 1000 MG – Fast-Acting Strength, Healthy Immune Function, Physical Wellness for Seasonal Protection – Full-Spectrum & Standardized – 60 Vegetarian Soft Capsules or Emergen-C. Whatever you need the most right now. The adaptability is amazing! You now have no excuse not to take breakfast seriously.
And, if you are not an orange fan, don't worry! Emergen-C® can still be your secret go-to with great varieties like Emergen-C® Energy+ Blueberry-Açai. It's available in bold-flavored Blueberry-Açai, powder-packed Lemon-Lime, and fruit-y Mango-Peach. It's flavored with natural, real fruit flavors, and it's also gluten free. Get natural caffeine from green tea in Emergen-C® Energy+* as part of your morning smoothie. They have over 20 flavors and a variety of special formulas to support your wellness goals.
You can even pair this smoothie with the Emergen-C Immune+® Gummies Orange to make sure you are in tip top shape this fall season! Yes, your favorite fizzy flavors, now in a yummy new form! Emergen-C Immune+® Gummies support your immune system with Vitamin C and Vitamin D,* support your energy with B Vitamins,* and are made with natural fruit flavors. No water needed! Bursting with fruit-y deliciousness, chew your way through Emergen-C Immune+® Orange & Raspberry Gummies to support your immune system with Vitamin C and Vitamin D.*
Get a handle on your fall schedule by feeling your best with the Secret Weapon Strawberry Orange Banana Smoothie. Don't wait until the combination of being on the go consistently and stress catches up to you to stock up on Emergen-C® Super Orange. Take your fall season by the horns this year and be ready for anything that comes your way with your morning secret weapon!
Secret Weapon Strawberry Orange Banana Smoothie
Serving Size: 4
Ingredients:
1-1/2 cups orange juice

2 cups fresh strawberries

2 ripe bananas

ice

2 packages Emergen-C® Super Orange fizzy vitamin drink mix
Directions:
Blend the orange juice, strawberries, banana, Emergen-C Super Orange, and ice cubes in a blender until smooth and frothy. I recommend the nutribullet rx for a perfectly blended smoothie.
*This statement has not been evaluated by the Food and Drug Administration. This product is not intended to diagnose, treat, cure or prevent any disease.